The October Newsletter is here! Click on the image below to read it.

| | |
| --- | --- |
| | Facebook users: Please visit our Facebook Group by clicking HERE. Please consider joining the group to get notifications of upcoming events! |
 Fundraiser for California Swing Dance Hall of Fame
hosted by the
San Diego Swing Dance Club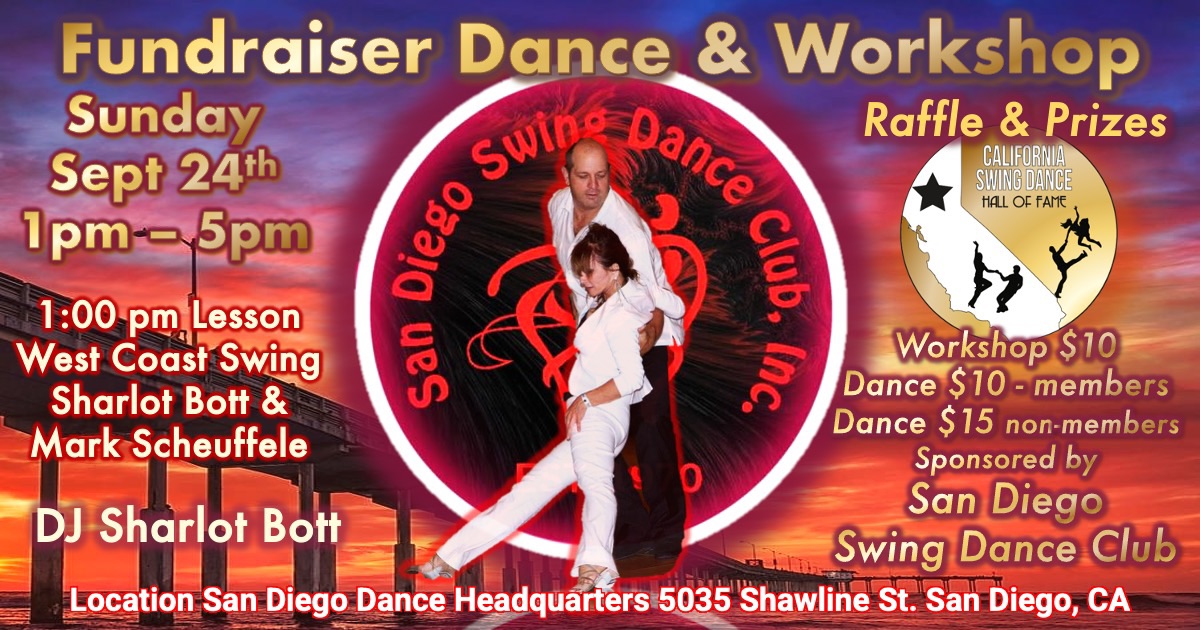 September 24 - Optional RSVP via Facebook click HERE
Get ready to swing into action and be part of an unforgettable day filled with dancing, music, and excitement! We are thrilled to announce a fantastic fundraising event that you won't want to miss.
Special Guest Instructors: Sharlot Bott & Mark Scheuffele
These swing dance champions are joining us to lead an exclusive swing dance workshop, where they'll share their expertise and passion to elevate our dancing skills to new heights. Whether you're a beginner or a seasoned dancer, this workshop is a golden opportunity to take your dance moves to the next level.
But wait, there's more! The evening will be filled with the electrifying tunes spun by none other than the fabulous Sharlot Bott herself! Get ready to be swept away by her incredible music selections as we glide, twirl, and spin the afternoon away. It's going to be a dance party like no other!
This event promises an unforgettable day of dance, music, and fun while supporting a great cause. Let's come together as a community, celebrate the art of swing dance, and raise funds for the California Swing Dance Hall of Fame.
Mark (and Sharlot) your calendars, invite your friends, and get ready to dance the day away! Your presence and support mean the world to us.
100% of the proceeds will be dedicated to supporting the California Swing Dance Hall of Fame.
##################################################
Closed Workshop Policy: To ensure a focused and respectful environment for both instructors and attendees, we kindly request that all participants arrive promptly. No entry will be permitted after 1:35pm to minimize disruptions and ensure everyone gets the most out of the workshop.
Open Dancing: After the workshop, we invite you to join us for a fantastic open dancing session! The ballroom doors will reopen at 2:30pm for you to showcase your new moves and enjoy a lively dance atmosphere. Your DJ for the afternoon is Vinh Mines
Workshop: 1:30 - 2:30pm
Members/Non-Members - $10
No "Intro to WCS" class on this day
Dance Admission: 2:30 - 5pm
Members - $10
Non-Members - $15
Yearly Membership - $35
San Diego residents can enjoy their initial dance experience for FREE. Pro Workshop not included.
San Diego Swing Club is a non-profit organization that was formed in 1970 to preserve West Coast Swing dancing. The longest-running WCS Club just celebrated our 53rd Anniversary.
MUSIC FORMAT:
San Diego Swing Dance Club plays predominately 70% West Coast Swing and a 30% mix of Country 2 Step, Nightclub 2 Step, Waltz, Cha Cha, Hustle, etc. DJs are receptive to requests.
We look forward to seeing you on the dance floor.
Click here for a map and directions.
Please note: The map app does not know that we are there on Sunday. It says Dance Headquarters is "closed" on Sundays -- But we will be there!
Sunday Dance Event Address:

San Diego Dance Headquarters

5035 Shawline St.

San Diego, CA 92111

Club Mailing Address:

San Diego Swing Dance Club

P.O. Box 1954

Bonita, Ca 91908-1954
Volunteers Welcomed!
The Club is always looking for volunteers to help with assorted projects. If you are interested please contact any of The Board Members.
---
CLASSES
Concurrent West Coast Swing classes at Introductory and Intermediate Level are held from 1:30-2:30 each Sunday except on the 4th Sunday when we have a special, extra-cost, advanced workshop. Except for that advanced workshop, attending these classes is free with paid admission to the dance.  No experience is required for the beginner-level lesson.
Dance admission is $10 for members, $15 for non members. A full year of membership is just $35.
San Diego County residents may attend their first dance for free including the Free Lesson on days when they are taught. The exception is for the special class on the 4th Sunday which always costs extra.
---
A Special, more challenging workshop is held on the 4th Sunday of each month.  This workshop will be taught by a local or out-of-town professional instructor and there is an extra $10 fee. Usually West Coast Swing is taught.
---
On the First Sunday of the month, a dance other than West Coast Swing is taught in the main ballroom. In most cases, the Introductory WCS class IS still taught on the 1st Sunday.
Our music mix includes music for other dances, including Country Two-Step, Nightclub Two-Step, Waltz, Cha Cha, etc.  On each "First Sunday" we take the opportunity to teach one of these dances.
---
Details on the current week's classes or workshops are elsewhere on this page and in the "calendar" section of the website.
---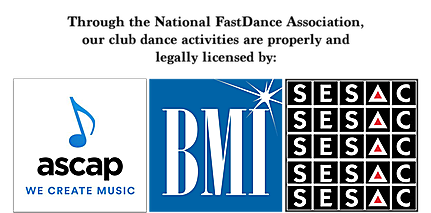 For questions, comments, or submissions related
to the website, please contact Jody Kravitz at:
webmaster at sandiegoswingdance dot com