| | |
| --- | --- |
| | Facebook users: Please visit our Facebook Group by clicking HERE. Please consider joining the group to get notifications of upcoming events! |

Memorial Day Dance, BBQ, and Potluck Celebration!
Dance HQ - 5035 Shawline Dr San Diego, CA 92111
Optional RSVP via Facebook, click HERE
Dear SDSDC Members and Friends,
As Memorial Day approaches, we would like to extend a warm invitation to you to join us for a day of joyous celebration, delicious food, and fantastic dance moves! We have organized a Memorial Day Dance, BBQ, and Potluck party, and we would be honored to have you participate.
This event is not just an opportunity to unwind and enjoy ourselves, but also a chance to honor the brave men and women who have made the ultimate sacrifice while serving our country. Together, let us celebrate their lives and the freedoms we enjoy because of their selfless acts.
The highlight of the day will be our lively dance floor, where we'll have an Intermediate Lesson by Mary Manzella, and a Vinhtastic DJ spinning the latest hits and classic tunes that will surely keep you grooving.
Of course, a Memorial Day celebration wouldn't be complete without a mouthwatering BBQ and a delightful potluck. We'll fire up the grill and provide juicy burgers. Additionally, we kindly request that you bring a dish to share with everyone—your favorite side dish, salad, or dessert. Let's make this a true feast of flavors!
We can't wait to spend Memorial Day with you, celebrating the spirit of unity, gratitude, and remembrance. It's going to be an incredible day filled with laughter, good food, and unforgettable memories.
---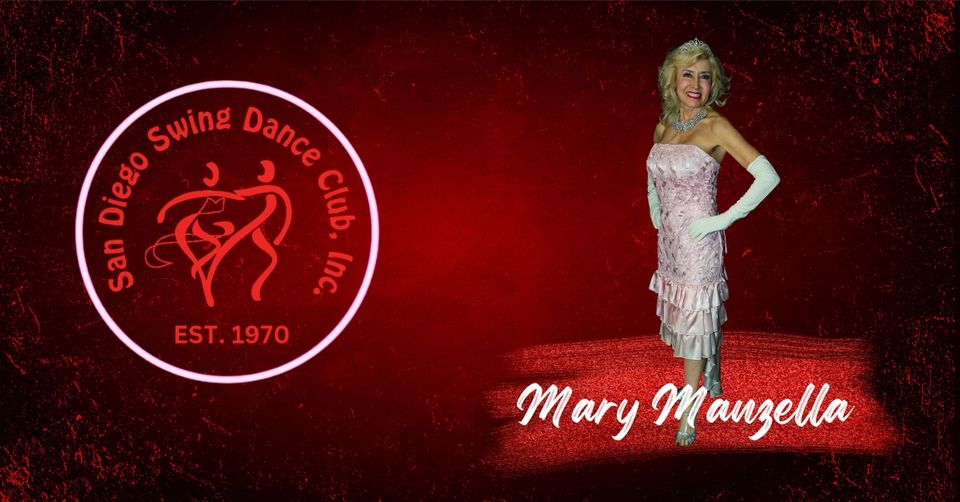 May 28, Intermediate level WCS workshop with Mary Manzella at 1:30 pm before the social dance.

Please

arrive early!
FREE Intermediate West Coast Swing Lessons with Mary Manzella. No Intro class this day.
(Free w/ paid Admission to dance)
Mary Manzella is a well-known and accomplished dancer, teacher, choreographer, and judge who specializes in swing dancing. She is a National Swing Dance Champion and has won awards for her showmanship, choreography, footwork, and teaching skills. Mary has taught people of all ages and levels across the United States and is recognized by the California Swing Dance Hall of Fame for her contributions to the dance community. Mary's teaching philosophy is to make dancing fun and accessible to everyone. Mary's passion for dance started at a young age, and she has pursued it throughout her life despite facing challenges. Mary inspires others to embrace dance and enjoy the joy it brings.

Dance Admission:
Members - $10 ($5 - April/May Special)
Non-Members - $15 ($10 - April/May Special)
Yearly Membership - $35
The dance starts at 2:30 with DJ Vinh Mines

Diego Swing Club is a non-profit organization dedicated to the preservation of West Coast Swing dancing that was formed back in 1970.
The longest running WCS Club that just celebrated our 52nd Anniversary.

MUSIC FORMAT:
San Diego Swing Dance Club plays predominately 70% West Coast Swing and a 30% mix of Country 2 Step, Nightclub 2 Step, Waltz, Cha Cha, Hustle, Jitterbug, etc. DJs are receptive to requests.

We look forward to seeing you on the dance floor.
---
Check out the May Newsletter.  Click on the Newsletter Logo

---
click here for a map and directions
Sunday Dance Event Address:

San Diego Dance Headquarters

5035 Shawline St.

San Diego, CA 92111

Club Mailing Address:

San Diego Swing Dance Club

P.O. Box 1954

Bonita, Ca 91908-1954
Volunteers Welcomed!
The Club is always looking for volunteers to help with assorted projects. If you are interested please contact any of The Board Members.
---
CLASSES

ADMISSION

LOCATION

Concurrent West Coast Swing classes at Introductory and Intermediate Level are held from 1:30-2:30 each Sunday except on the 4th Sunday when we have a special, extra-cost, advanced workshop. Except for that advanced workshop, attending these classes is free with paid admission to the dance.  No experience is required for the beginner-level lesson.

---

A Special, more challenging workshop is held on the 4th Sunday of each month.  This workshop will be taught by a local or out-of-town professional instructor and there is an extra $10 fee. Usually West Coast Swing is taught.

Spring Special! April and May, this special workshop is included in the regular admission price without an extra charge!

---

On the First Sunday of the month, a dance other than West Coast Swing is taught in the main ballroom. The Introductory WCS class IS still taught on the 1st Sunday.

Our music mix includes music for other dances, including Country Two-Step, Nightclub Two-Step, Cha Cha, etc.  On each "First Sunday" we take the opportunity to teach one of these dances.

---

Details on the current week's classes or workshops are elsewhere on this page and in the "calendar" and "workshop" sections of the website.

Members-$10
Non-Members $15

Spring Special-- Above prices are discounted to $5 and $10 respectively in April and May

Memberships are $35 a year and your year starts when you join.

There is no pressure to join

Dances are held at Dance Headquarters
Sundays
2:30 to 5PM

Phone:
(858) 274-6422

Check our calendar page for monthly info!
---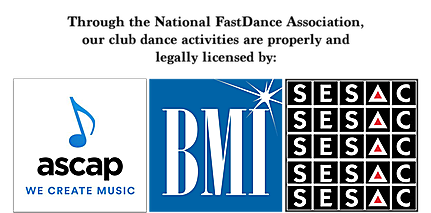 For questions, comments, or submissions related
to the website, please contact Jody Kravitz at:
This email address is being protected from spambots. You need JavaScript enabled to view it.